Art Camp 2022 with Sue Thomas
July 5-8, 2022 — 9 to Noon
When
July 5-8, 2022
9 a.m. to Noon
Where
At the church
For
1st grade through 5th grade (completed)
Registration
Registration is now open.
The registration fee is $15 per child for materials. Mail your payment to the church at the following address:
Presbyterian Church of the Cross
Art Camp
1517 S. 114th Street
Omaha, NE 68144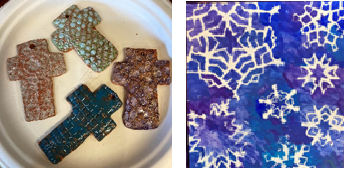 Sorry Art Camp is Full! Registration is now closed.
Children 1st through 5th grade (completed) are invited to join in the creative fun from 9:00 a.m. to noon in the Gathering Space. You'll discover watercolor techniques, explore drawing dimensions, sculpt with clay, experiment with print making across mediums, understand Origami folds, and create optical illusions. The cost is $15 per child for materials.