PIECEMAKERS OF THE CROSS
Come Quilt with Us!
When:
Wednesday evenings, Sept – May
Where:
Presbyterian Church of the Cross
1517 South 114th Street
Omaha, NE 68144
Room 11
Group For:
All Ages
Registration:
None
About PieceMakers: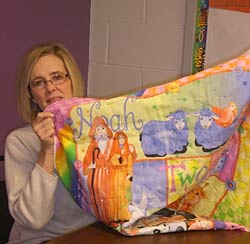 The PieceMakers formed in January, 2001, and they have enjoyed prolific quilt making since the beginning. Our mission is to make quilts to welcome newborns into our church family, and we continued to joyfully fulfill that mission. If you venture to Room 11 on any Wednesday evening, September through May, you will find a talkative group of all ages, both experienced quilters and novices, cutting, pinning, stitching, and having a great time! We welcome new members of all ages, regardless of quilting ability.
At any given time, there are 5-10 quilts in varying stages of production, and enough work to keep 10-20 people busy each week. PieceMakers have sewn other projects too. Easter banners for the sanctuary, appreciation quilts for retiring staff, 26 quilts for our partner church's camp in Russia, tote bags for Bible school in Russia, a raffle quilt and other similar projects. On May 20, 2012 PieceMakers gave the 100th quilt to a new baby in the congregation. Children were asked to bring their own baby quilts to church to share. A warm and cuddly display radiated love out into the congregation. See you in September!!!
Stop by the Information Center to see our scrap book!
When:
Wednesday evenings, Sept – May
Where:
Presbyterian Church of the Cross
1517 South 114th Street
Omaha, NE 68144
Room 11
Group For:
All Ages
Registration:
None
Not what you were looking for? Explore our other fellowship options…