Spring 2022 Educational Offerings
Sunday Mornings
Introduction to the Protestant Reformation
Sundays, May 1- May 22
10:00 a.m.
Led by Pastor Christine
For four weeks we will look at the Protestant Reformation placing it into the historical context of sixteenth century Europe. We will consider not only the theological changes brought forth by the Protestant Reformers, but also think about how the Reformation impacted social and political change. The Reformation is essential not only for our Presbyterian tradition but also for world we live in today.
Midweek Classes
Men's Summer Bible Study
June 7-August 30, 2022
Tuesdays at 7:00 a.m.
Led by Pastor Marshall Zieman & Keith Allen
Join Marshall and Keith Allen for a new Tuesday morning Men's Bible Study in Room 15 (not offered on Zoom).  Beginning June 7, we will meet at church every Tuesday this summer from 7-8 a.m.  Coffee and pastries/donuts will be provided. We will start our study with the story of Joseph. Bring your favorite Bible, your insights, your conversation, and your fellowship.
Tuesday Bible Study
Spring Session: January 11-May 17, 2022
Summer Session: June 7-August 30, 2022
Tuesdays at 1:00 p.m.
Led by Pastor Marshall Zieman
Join us for a weekly Bible study in Room 15 and on Zoom. No previous experience in a Bible Study is necessary, and no homework is required. Just bring your favorite Bible and join Dr. Zieman to explore how the Bible speaks to our lives today.
New members can join at any time by contacting the church or by signing up below.
Past Educational Offerings
Lenten Study
March 6 to April 10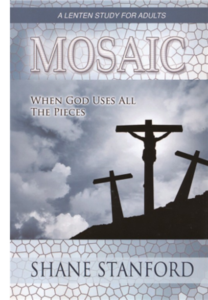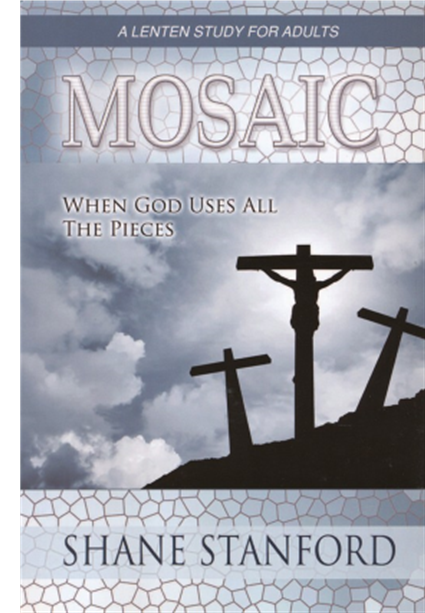 One of our most beloved churchwide activities is starting soon – Lenten Study! Small groups will begin a 6-week study on March 6 and end on April 10 (Palm Sunday).
In this study, we will examine how God uses the broken pieces of our lives to reframe our purpose, turning our discarded hopes and dreams into something beautiful and useful – a mosaic in which God uses all of the pieces. The author says, "This journey will take us along the same path Jesus walked in the days before and along his own journey to Jerusalem. We will see similarities to our own stories and the lessons we should pick up, like pebbles along the path.
You may purchase your own book or ask us to order one for you.  Recommended donation is $14. Please register online or at the table in the Narthex before February 20.
Room Assignments for the Lenten Study Small Groups
Meyer Small Group – Sundays at 10:00 a.m. – Room 13 *masks required
Stuckey Small Group – Sundays at 10:00 a.m. – Room 14
Allen Small Group – Sundays at 10:00 a.m. – Room 15
Searson Small Group – Sundays at 10:00 a.m. – ZOOM
Sumner Small Group – Sundays at 5:00 p.m. – Room 15
Hansum Small Group – Wednesdays at 7:00 p.m. – ZOOM
Uhrig Small Group – Thursdays at 1:00 p.m. – Room 14
So You're Presbyterian!
What exactly does that mean and why should you care?
Sundays, January 9, 16, 23, 30 and February 20 and 27
10:00 a.m.
Led by Keith Allen
When a church like PCOC has great preaching, great music, great education, great people, and great facilities, does being Presbyterian matter? You bet! Come learn what is it about being Presbyterian that should matter to you and have fun doing it. Plus, you can choose to just show up and be inspired, or buy an interesting little book that goes with the course that is easy to read or, for the die-hard students in the group, take home study questions to prepare in advance. Something for everyone!
If you would like to purchase the optional book that goes with this class, you can buy it on Amazon. Or, you can have Heather purchase the book for you – please select that option on the registration form. Suggested donation is $10 per book.
Masks are required regardless of vaccination status.
Smart Digital Choices Workshop for Families
First Two Wednesdays during Cornerstone
January 12 & 19
6:30 – 7:30 p.m.
The Christian Education Committee is excited to offer an important workshop for families. We know screen time has a huge impact on our children's social, emotional, physical, and mental well-being. While monitoring the amount of screen time, it is also important for parents (and grandparents) to know what is on the screen.
Join us for a two-part workshop offered by Smart Gen Society on Wednesdays, January 12 and 19 from 6:30 – 7:30 p.m. Participants will learn how to manage digital choices for your children and how to teach children to make smart digital choices for themselves. Childcare will be provided. Call Heather for more information.
The first workshop is for parents only. Childcare will be provided.
The second workshop is for parents and children.
Sacred Spaces
September 15 – November 17
Wednesdays at 6:30 p.m. during Cornerstone
Led by Lloyd and Charlene Meyer and Tim and Brenda Graumann
Long before Christianity, people gathered to look for and worship their gods. These places became sacred to them. This class will look at some of these places. We will discuss why the places were located where they were, take a field trip or two (if possible) and talk about what made them important. Please join us this fall to learn more about these places.
Register online by September 1.
Note: This class is part of the Cornerstone program. You must also sign up for Cornerstone in addition to signing up for the class.
Getting Involved with God: Rediscovering the Old Testament
September 12 – October 31
Sundays at 10:00 a.m.
Led by Pastor Christine Dempsey
Ellen Davis reintroduces us into the Old Testament: the scriptures used by Christ and the early church and the scriptures that tell the story of God's relationship with humanity from the beginning. While many of us are familiar with Old Testament stories, many of us fail to see the relevance of the Old Testament in today's world. We tend to understand God in the Old Testament in one of two ways. First, we see the Old Testament actions of God as too harsh or too distant for us. Or we look only at the Old Testament passages as prophecy for the coming of Christ. Both approaches limit the richness of the Old Testament as scripture that speaks directly to us as children of God. As Ellen Davis says, she wrote this book to tell us "about the intimate life with God." This book is an introduction to understanding the Old Testament as the living word of God that can bring us into a better relationship with God and in tune with God's call on our life. Please join me for a seven-week Bible Study that introduces us to the richness of the Old Testament and challenges us to read it with a new lens.
Register by September 1. You may order your own book, or one will be provided. Suggested book donation is $14 if the church provides the book for you.
Bonhoeffer: Protestant Martyr and Theologian
November 7 – December 5
Sundays at 10:00 a.m.
Led by Carl Greiner, M.D.
Dietrich Bonhoeffer (1906-1945) was a theologian, notable author, and pastor who opposed the Nazi Party. He was particularly concerned about the requirements of the German Lutheran church to participate in Nazi principles. He helped form the Confessional Church as a protest response. He felt that he needed to go beyond forming a new church to defeat the Nazis. He was involved in the plots to assassinate Hitler. Although he was already imprisoned for assisting Jews to escape, he was hanged as a conspirator.
Class participants will review his life and works based on the book, "The Cost of Moral Leadership: The Spirituality of Dietrich Bonhoeffer." Bonhoeffer was a controversial author who wrote about Jesus' life, the importance of the Word, the church community, and the problems of "cheap grace." His decision to overthrow Hitler will also be discussed.
Register by October 1. The church will order books through PC(USA) for this class. Suggested book donation is $10.
Race Relations Classes – Winter/Spring 2021
Reading While Black: African American Biblical Interpretation as an Exercise in Hope by Esau McCaulley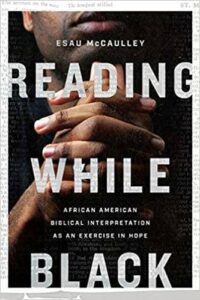 Six-Week Study Led by Karen Morey and Pastor Christine
This book study is an introduction to reading the Bible through black eyes and offers us a chance to understand how African Americans read scripture within the context of their experience and history. The study will help us learn the breadth of the scripture in reaching all people and help us dive more deeply into the Hope that is uniquely from God.
Participants will need a copy of the book prior to the class and a notebook for reflection. Suggested book donation $16.
White Ally Toolkit Workbook by David Campt, Ph. D.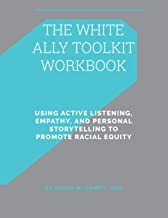 Six-Week Study Led by Keith Allen and Patty Ritchie
April 11 – May 16
Sundays from 9:30 – 11 a.m. in person and on Zoom
The purpose of this class is to learn how white people can effectively communicate with other whites who are racism skeptics, in a way that may entice them to consider changing their views. We will use Active listening, Empathy, and Personal Storytelling to Promote Racial Equity, all while keeping a healthy frame of mind.
Participants will need to purchase their own copy of The White Ally Toolkit Workbook by David Campt prior to class and allot time for weekly homework. You can purchase this book on Amazon.
Time to Listen – Perspectives on Race
Facilitators: Keith Allen, Karen Morey, Patty Ritchie, and Christine Dempsey
As a follow-up to the "Courageous Conversations About Race" class in the fall, all PCOC members were invited to a special January series to thoughtfully listen to guests from our Omaha community. Together, the congregation grew in understanding and expanded perspectives. The following guest speakers shared their insights, information, and stories on Sunday mornings.
• January 3 — Charles Wilson — An Interview with our mission partner: Insights from Omaha Street School, Director of Care
• January 10 – Preston Love — "Community Engagement" director of Black Votes Matter Institute and 4urban.org. Please read these articles before attending this session.
• January 17 – Camille Metoyer Moten — An interview with an actor, singer, and member of diversity boards in Omaha
• January 24 – Carmen Tapio — Perspective Storytelling Q & A with Carmen Tapio
• January 31 – Dr. Franklin Thompson — "Teaching Toward Multicultural Gaps: An Investigation of What's Missing" 90-minute presentation followed by Q&A session
Access to the speaker recordings are available to PCOC members on request. Please contact Gayle in the church office.
Evolution & Your Faith
Led by Earlene Uhrig
The class included a short lecture, some video clips, and breakout room discussions. Participants gained a better understanding of the process of evolution, the theory of evolution, and how this relates to your personal thoughts on this process. The group explored the differences of beliefs along a Creation/Evolution Continuum, from the natural world of evolution to the supernatural realm of faith. The class incorporated the evolution of viruses (nonliving) as well as the evolution of living bacteria, plants, and animals.