Holy Week
at Presbyterian Church of the Cross
For Holy Week, Presbyterian Church of the Cross is providing a brief online devotional Monday through Friday. The videos feature a prelude, a Scripture reading from the gospel of John, a homily, and a musical soloist.  Maundy Thursday's devotional also includes Communion. The complete set of devotionals is provided below with the most recent day shown first.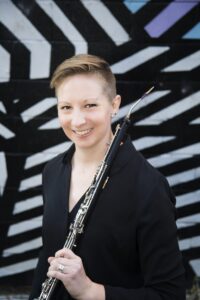 Sara Renner is accomplished oboist with an international performing career. She currently serves as Principal Oboe and Woodwind Faculty for the OperaMaya International Music Festival and frequently performs with the South Dakota Symphony, Sioux City (IA) Symphony Orchestra, Omaha Symphony, and various ensembles in the greater Omaha area. Sara has performed with numerous high profile artists, including Dame Evelyn Glennie, Amy Grant, Michael W. Smith, Cirque Musica, and Celtic Woman. An advocate for new music, Sara commissioned five new works this past year for unaccompanied oboe and English horn for her first solo album, Oboe: Unfolded, which was released in 2020. It is available on Spotify, iTunes, Amazon, YouTube Music, and other digital streaming platforms. Working to maintain an international performing presence, Sara was a recitalist for the virtual 2020 RioWinds Festival, which is based in Rio de Janeiro, Brazil and is part of the Musica no Museu cultural concert series.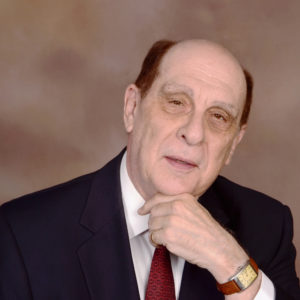 Dana Sloan
is the organist of Church of the Cross. He retired as Minister of Music after a 40 year tenure, during which the program grew to be one of the finest in the area. He holds degrees in organ performance from the Ohio State University and the University of Illinois.
Dana now focuses on providing quality choral and congregational support through his keyboard playing. He has contributed his talents throughout the Homilies & Harmonies for Holy Week.
MAUNDY THURSDAY
Today's video includes Communion. Please prepare your elements at home.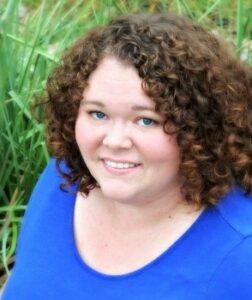 Sapphire Munford studied Vocal Performance at Nebraska Wesleyan University. Singing choral music is one of her greatest joys, and she is thrilled to have so many opportunities to make music with artists from the Lincoln and Omaha areas.
Sapphire works as a secretary at Lincoln Northeast High School in Lincoln, Nebraska where she lives with her husband Josh and son Teddy.
Chamber Singers: Lauren Ballou, June Fettig, Jayne Frederickson, Becky Zieman, Susan Geschwender, Belinda Greiner, Jean Lynn, Marietta Morhardt, Mary Ott, Ethan Bennett, Larry Frederickson, Sam Rennick, Scott Stalnaker, Joe Mendick, Don Metzger, John Morey, & Bill Ritchie with Dr. Sara Renner, English horn & Dana Sloan, organ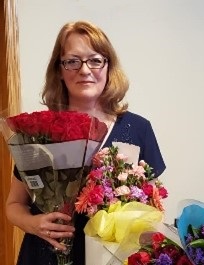 Olga Conklin grew up and studied music in the heart of Russia in the city of Kazan, playing professional classical piano from the age of seven and graduated from Kazan State Conservatory with a Master's degree in music. She continued to work for many years at several music colleges in Kazan, Russia as a piano accompanist and teacher of music theory and history.
After immigrating to the United States in 2003, Olga worked for Millard North High School as a pianist from August 2005 till May 2014. Now she teaches private piano her home, watches two grandchildren, and plays for Sunday services at Faithful Shepherd Presbyterian Church.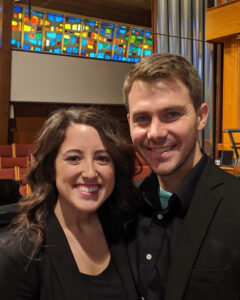 Joe Mendick is an Omaha native and a graduate of Carnegie Mellon University with a BFA in acting and music technology. He grew up singing in the Nebraska Choral Arts Society, toured Europe with Bel Canto, and went from Soprano to Bass in the organization. Joe plays violin, alto sax, piano, guitar, and also records and mixes his own music. He has been involved with at least 4 studio albums, and you can find some of his work on Spotify. Joe and his wife Haley are both members of the Resound ensemble at Church of the Cross.

Patricia Ritchie has lived in Omaha for 40 years, combining her love of teaching and performing. As a long-time member of the Omaha Symphony, Orchestra Director for Omaha and Millard Public Schools, and Coach and Assistant Conductor for the Omaha Area Youth Orchestras, Patty continues to participate in our wonderful Omaha musical ecosystem. During her "renaissance," she is an Associate Artist with Burkholder Project in Lincoln, NE. She has written her first children's book, The Dunehaven Council, coming out this April, in time for Earth day! Music, literature, nature and art combine for her "Peace of Sky" website.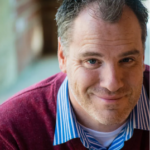 Kyle Sandall serves as a vocal teaching artist, clinician, contest judge, and private voice instructor. He is an active singer throughout the region, performing with Opera Omaha, The Omaha Symphony, the First-Plymouth Choir in Lincoln, Nebraska, Sounding Light in Detroit Michigan, Resonance in Omaha, and was previously a member of the South Dakota Chorale. Kyle has sung throughout the country in Iowa, Kansas, Illinois, New York, Michigan, and Missouri.

Nestor Herszbaum has appeared as chamber musician, recitalist and concerto soloist throughout Europe, North and South America. He is the former Principal Flute with the Kansas City Symphony Orchestra and has also performed with the Omaha Symphony, Lincoln Symphony and Charleston Symphony.