MONUMENTAL VBS
June 21-23, 2022 — 9 to Noon
When
June 21-23, 2022
9 a.m. to Noon
Where
At the church
For
4 year olds – just completed 5th grade
Registration
Registration is now open.
The registration fee is $10 per child, or $20 max per family. Mail your payment to the church at the following address:
Presbyterian Church of the Cross
VBS
1517 S. 114th Street
Omaha, NE 68144
Or, you can pay online using a credit card. Credit card payments are handled through a secure payment portal powered by ShelbyNext. After you have accessed the payment portal, simply choose VBS as the Fund you desire to pay, complete the rest of the fields, and click Submit.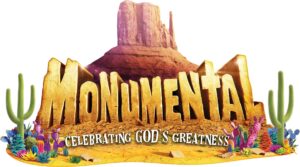 Go off-road for a Monumental adventure through the colorful canyons and sunbaked trails of the southwest. By exploring God's awesomeness, kids will form a  rock-solid faith for the road ahead. Our goal is to share God's monumental greatness with 75 kids at VBS on June 21-23.
Register Now
Volunteer
Come on adults – we need YOU to make this happen! We simply cannot provide this outreach program without lots of adult volunteers. We still have many more spots to fill.  Contact Heather to see how YOU can serve!