HERO HOTLINE VBS
June 13-15, 2023 — 9 to Noon
When
June 13-15, 2023
9 a.m. to Noon
Where
At the church
For
4-year-olds through just completed 5th grade
Registration
Now open
The registration fee is $10 per child, or $20 max per family. If you have registered but not paid, please mail your payment to the church at the following address:
Presbyterian Church of the Cross
VBS
1517 S. 114th Street
Omaha, NE 68144
Or, you can pay online using a credit card. Credit card payments are handled through a secure payment portal powered by ShelbyNext. After you have accessed the payment portal, simply choose VBS as the Fund you desire to pay, complete the rest of the fields, and click Submit.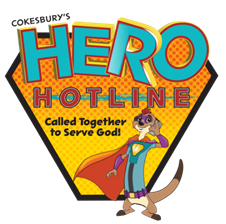 In the depths of the colorful underground cave is the beating heart of the hero community. In the Hero Hotline Headquarters, everyone's gifts are valued, and every hero has a role to play in following Jesus, helping others, working together, listening to God, and showing grace.
We had a super time at Hero Hotline VBS!