VACATION BIBLE SCHOOL
July 13-17, 2020 — HAPPENING ONLINE THIS YEAR!
When
July 13-17, 2020
Where
At your house! We are bringing VBS to you online this summer. We'll have videos and fun activities planned each day.
For
5 year olds – 5th grade (grade in the fall)
Fee
$10 per family
Registration
Open now!
Rocky Railway VBS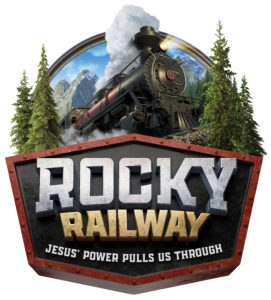 The mountaintop adventure is coming to your house this summer! At Rocky Railway VBS, kids discover Jesus' power can pull them through life's ups and downs. Rocky Railway is filled with incredible Bible-learning experiences kids see, hear, touch, and even taste! Sciency-Fun Gizmos™, team-building games, cool Bible songs, and tasty treats are just a few of the standout activities that help faith flow into real life. Plus, we'll help kids discover how to see evidence of God in everyday life. Your kids will also participate in a hands-on mission project. 
All VBS activities will be online via our website.
REGISTRATION
Get your registrations in now and worry about payment later. We hope your children climb aboard with us in July to see how Jesus' power pulls them through life's ups and downs.