2021 Lenten Study
February 14 – April 2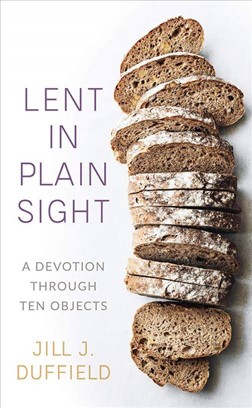 Use the form on this page to register for the Adult Lenten Study.
Interested in a Lent activity for kids and families, too? We have Lent Kits for Kids.
Feb. 14 Through Holy Week
"Lent in Plain Sight" by Jill Duffield
God is often at work through the ordinary: ordinary people, ordinary objects, ordinary grace. Through the ordinary, God communicates epiphanies, salvation, revelation, and reconciliation. It is through the mundane that we hear God's quiet voice.
In this devotion for the season of Lent, Jill Duffield draws readers' attention to ten ordinary objects that Jesus would have encountered on his way to Jerusalem: dust, bread, the cross, coins, shoes, oil, coats, towels, thorns, and stones. In each object, readers will find meaning in the biblical account of Jesus' final days. Each week, readers encounter a new object to consider through scripture, prayer, and reflection. From Ash Wednesday to Easter, Lent in Plain Sight reminds Christians to open ourselves to the kingdom of God.
Please indicate your first and second choice of class day/time below. Participant folders and books are available for pick up at church Monday – Friday 9 a.m. to 4 p.m., now until February 12.
Registration is closed. If you have questions about your small group day, time, or Zoom, please contact Heather in the church office.