2022 Lenten Study
March 6- April 10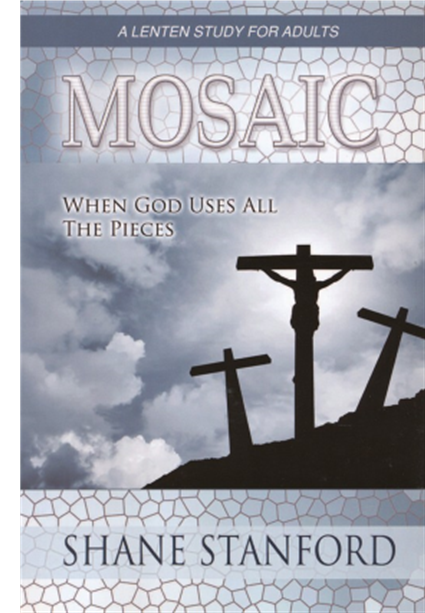 "Mosaic – When God Uses All The Pieces" by Shane Stanford
In this study, we will examine how God uses the broken pieces of our lives to reframe our purpose, turning our discarded hopes and dreams into something beautiful and useful – a mosaic in which God uses all of the pieces. The author says, "This journey will take us along the same path Jesus walked in the days before and along his own journey to Jerusalem. We will see similarities to our own stories and the lessons we should pick up, like pebbles along the path.
You may purchase your own book or ask the church to order one for you.  Recommended donation is $10, and you can bring your donation to the first day of class with you.
Questions? Contact Heather in the church office.
Room Assignments for the Lenten Study Small Groups
Meyer Small Group – Sundays at 10:00 a.m. – Room 13 *masks required
Stuckey Small Group – Sundays at 10:00 a.m. – Room 14
Allen Small Group – Sundays at 10:00 a.m. – Room 15
Searson Small Group – Sundays at 10:00 a.m. – ZOOM
Sumner Small Group – Sundays at 5:00 p.m. – Room 15
Hansum Small Group – Wednesdays at 7:00 p.m. – ZOOM
Uhrig Small Group – Thursdays at 1:00 p.m. – Room 14
Last Minute Sign Ups