2023 Lenten Study
February 26 – April 2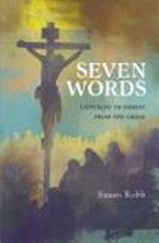 Seven Words: Listening to Christ from the Cross by Susan Robb
In this study, Robb looks at Christ's final words on the cross through a lens that finds life and hope in his final sayings, while exploring each from a biblical and historical perspective. This book brings a hopeful and contemplative take on the cross during the weeks of Lent.
We hope you'll join us for this 6-week study during Lent!
Sign up by February 12!