OUR CHURCH
Our Mission, Vision, and History
As a community of Christians, we welcome inclusively all who seek to learn and grow in the Christian faith.
Our congregation is part of the Presbyterian Church U.S.A. We celebrate our congregational life through traditional worship, exceptional music, excellent education and energetic mission programs.
We are an open and caring congregation striving to provide access and welcome to all. Learn more about the beliefs of Presbyterians here.
Our Mission
As members of Presbyterian Church of the Cross:
We affirm that God is the foundation of our lives
We believe that the Bible reveals God to us.
We believe that God came into this world in Jesus Christ and is active in the world today.
We believe through faith in God we will have everlasting life.
These beliefs lead us to a willingness to obey and serve.
Our church is a community of individuals with common beliefs affirming our faith through worship, education, service, fellowship and love.
As a community, Church of the Cross:
Proclaims the Good News of the grace of God, unites God's family in praise and thanksgiving, attends to the spiritual needs of our members, and reaches out with an evangelistic effort to the wider community. Our church provides a focus for the comfort, care and support of those in need, and empowers us to serve God and the needs of others.
Our Guiding Vision Statement
Come, not because you are strong,
but because you are weak.
Come, not because any goodness of your own
gives you a right to come,
but because you need mercy and help.
Come, because you love the Lord a little,
and would like to love Him more.
Come, because He first loved you
and gave Himself for you.
Presbyterian Church of the Cross welcomes and engages all who seek a deeper relationship with God. We are a thriving community of faith empowered by the Holy Spirit, dedicated to the glory of God and committed to the unifying ministry of Jesus Christ. The Holy Bible, the living Word of God, serves as our foundation, guiding us in our everyday lives.
We nurture one another in our individual spiritual journeys through scripture-based worship, inspirational music, enriching study, thoughtful discussion, and prayer.
We honor the heritage of the Church and celebrate our traditions, while continually seeking new ways to understand our faith and become better disciples.
As a caring community we take on each other's joys and burdens, offering and receiving support and comfort. Because we know and care for each other, we respect and learn from a wide range of views. We value the richness this variety of perspectives brings to our church.
We strive to be a beacon of hope by living the commandment to love God and our neighbors. We serve others with courage, creativity and compassion. Using our God-given talents individually or partnering with others, we respond to human needs in our community, our country and the world.
Inspired by the Holy Spirit, we: live the Word, celebrate the Word, study the Word, share the Word, and serve God's world.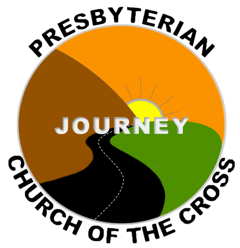 We go forth into the world in peace,
having courage,
holding fast to that which is good,
rendering to no one evil for evil,
strengthening the faint hearted,
supporting the weak,
helping the afflicted,
honoring all men and women,
loving and serving the Lord,
rejoicing in the power of the Holy Spirit.
Our History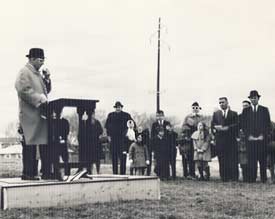 Our church was first proposed in 1957, as Omaha began moving west. Land was purchased in the brand new Bel-Air area. The church was organized by Charles Young. Until a building could be built, the church met in the basement of the manse at 11604 Shirley. Ninety-eight persons attended the first service in the basement of the manse. By the time the church was formally recognized on Palm Sunday, March 30, 1958, 172 men and women were listed as charter members.
The church took its name from its first piece of furniture: a communion table borrowed from Wheeler Memorial Presbyterian Church. Taking inspiration from the large cross carved on the table, the name Church of the Cross was adopted.
Later that year the congregation approved a $118,000 building plan ($1,045,000 in 2019 dollars) designed by renowned Colorado architect James Hunter. That building is today's Fellowship Hall.
Completion of the new building coincided with the arrival of a new pastor: the Reverend Ralph Gerber. Ralph and Elinor Gerber moved into the manse in September 1959, and for the next 21 years would shepherd the new church from infancy to young adulthood. Rev. Gerber was installed on October 4, 1959, and the church held its first service in the new Fellowship Hall on Christmas Eve of that year. The formal dedication would come three weeks later on January 10, 1960.

In the five years from 1959 to 1964, church membership increased from 245 to 831. Working from one of Hunter's concepts, architect and congregation member Irving Dana went to work on plans for a new sanctuary. The new sanctuary was ready for occupancy on Easter Sunday of 1966.
By 1974, the church had ten separate choirs and a full time minister of music was clearly needed. Dana Sloan recalls that it was the congregation's strong commitment to and love of music that was a deciding factor in his decision to answer that call. His arrival would elevate the music programs at Church of the Cross to new levels and establish its identity as "the church with the music" that is maintained even today. In addition to building an outstanding music program featuring superior vocal and bell choirs for adults, children and youth, including performances at the National Cathedral in Washington, D.C., Dana Sloan created the hugely successful Vesper Concert Series. Now in existence for over 30 years, the Vesper Concert Series features the many talented young artists performing and sustaining vibrant careers, both nationally and internationally, who grew up or live in Nebraska. 
In 1980 Richard (Dick) Murdoch answered a call as Minister of Christian Education. He was installed as co-pastor with Ralph Gerber, as Reverend Gerber moved toward retirement. After Rev. Gerber's retirement the Reverend Leslie Borsay joined the church in August 1982 as co-pastor with Reverend Murdoch.
In 1985 both Reverend Murdoch and Reverend Borsay accepted new calls. Dr. Kirk Ryckman accepted the call to become the church's next pastor and was installed in 1987. Under Dr. Ryckman's leadership attendance remained high at worship and church events. In the following years new fellowship opportunities and the Wednesday evening Cornerstone education program were created. The Advent dinner established itself as the church's single most successful annual event. A new emphasis emerged on Evangelism and Mission. Young people were attracted to youth groups under the guidance of the new associate pastor, Reverend Ronnie Osborne. As the 1990s ended, Reverend Osborne answered a call in Georgia and two new associate pastors were added to the church clergy. In 2000, Dr. Nancy Redman (Caring Ministries) and Regina Maas (Educational Ministries) joined the staff.
In 2008 as the church completed its fiftieth year, it was once again ready to expand. Ground-breaking for a new addition coincided with its golden anniversary.
In 2009 the church experienced several changes in clergy. In August Regina Mass was released to accept a new call followed shortly thereafter by the retirement of Dr. Nancy Redman in September. Sheri Sessions was hired to become the Director of Christian Education, taking over the duties of Rev. Maas. Next, a vibrant individual was added in November of 2009 when Nadia Mullen, recently out of seminary, was welcomed as the new associate pastor. Despite her youth Nadia's maturity and deep faith sparked a fresh enthusiasm.
Upon the departure of Rev. Mullen in September of 2013 to relocate with her husband and new baby to New York to be closer their families, the church was again in need of a new associate pastor. At about that time Dana Sloan, Kirk Ryckman and the long tenured business manager announced their intentions to retire in the near future. The church was facing some big decisions. In a relatively short period of time it would need two new pastors, a music director and a new business manager. The church was up to the challenge and adopted a plan to smooth the transition to a new group of leaders.
The transition began with the hiring of Kristi Treu as the new music director and Rock Sumner as the new business manager in August 2014. Dana Sloan agreed to stay on part time as the church organist and to assist Mrs. Treu while she settled in to her new responsibilities. A recently retired pastor, Reverend Lynda Dinsdale, agreed to accept a temporary, year to year associate pastor position with the church. This arrangement also enabled her to return from Texas to her home state of Nebraska. Reverend Dinsdale assumed the position of transitional associate pastor in July of 2014.
In a departure from its regular order, the Presbytery accepted the church's plan to allow Dr. Ryckman to delay his retirement until a new pastor could be called and to permit him to temporarily work with that new pastor to facilitate a smooth transition. Dr. Marshall Zieman accepted our call and became the pastor in January of 2015. Dr. Zieman was found to be the perfect replacement. Dr. Ryckman and Dr. Zieman quickly became friends and collaborated for several weeks as the church seamlessly transitioned to its new pastor. A grateful congregation turned out en masse to honor Kirk Ryckman and to celebrate his 28 years of faithful, dedicated service to our church.
After four years of providing strong leadership to the church's caring ministry, Reverend Dinsdale retired in order to return to Texas to be closer to her family. A search began shortly thereafter for a new Associate Pastor. In the meantime Sheri Sessions also retired. The church was fortunate to find within its membership a capable replacement in Heather Berry who assumed the role of Director of Christian Education in August of 2018.

In July 2019 the congregation overwhelmingly approved the call of Reverend Christine Dempsey to become the Associate Pastor. She completes the staff of dedicated and caring individuals the church is blessed to have.
Over the past 50+ years PCOC has thrived as congregation of believers while reaching out to the world to demonstrate the power of Christian faith. Its members continue to participate in local, national and international mission. While remaining financially strong, the church honors its commitment to expend 20% of annual pledge income to support mission. 
As a community of Christians, including second and even third generation members, the church has prospered through its dedication to mission, Christian education, caring and supportive fellowship, and inspiring worship.