NEWS & EVENTS
What's Happening at PCOC
Worship, music, fellowship, education, and mission are filling the halls at Church of the Cross! Keep reading to learn about our news and events.
With the protection of vaccination, many of us are beginning to feel like life is returning to normal again. As you will read, church life is beginning to pick up, too. Each week we are delighted to see more familiar faces in the pews, and we're excited for a full calendar of summer activities and big plans for the fall.
Worship Schedule
Returning to in-person activities is a personal decision for everyone. If now is the right time for you to return to Sunday worship, join us in the sanctuary (unless an alternate location is noted) at 10:00 a.m. We will record the service each Sunday, and it will be available to view on our website by noon each Sunday.
For those planning to attend our in-person services and activities, we ask you to observe our PCOC Safety Protocols. Indoors: masks are optional for those who are fully vaccinated. Outdoors: masks are optional for everyone.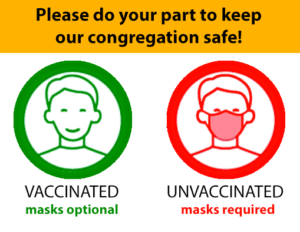 On June 1, we will begin summer office hours from 9:00 a.m. to 3:30 p.m., Monday through Friday. The summer schedule runs through September 3.
Power of Prayer
Submit a prayer request to our church's prayer team using our new online form. Prayer requests are confidential and shared only with members of the prayer team.
Cross Care Connections Support

2020 has been challenging on both our physical well-being and our spiritual lives.  Sometimes, we just need a friend or companion to walk with us.  Church of the Cross is reenergizing our wonderful care giving team as Cross Care Connections.  Please pray about how these deeply caring members of our congregation can walk along with you. More information will be coming soon, but if you or a loved one would enjoy a Cross Care Connections provider now, please contact Pastor Christine.
PCOC Updates for The Week
Joys & Concerns
Flowers in the chancel this week are given by Jerry and Renee Cornett in memory of Renee's father, Robert Raseraon's birthday.
If you are interested in providing flowers for the sanctuary, please call the church office.
PCOC Birthdays for This Week
Each week, we list birthdays, so you can extend your good wishes to one another. You can find member contact information in the online directory
7/23 – Dawn Zimmerman
7/24 – Marietta Morhardt, LeRoy Swedlund, Scott Lewis
7/25 – Carolyn Hansen, Haidyn Spielman
7/26 – Tanya Mitzel, Joslyn Bailey
7/27 – Irene Burson, James Fuller
7/28 – Wendi Harkness, Danielle Obregon, Jane Olson
7/29 – Amy Miller, Amanda Stalnaker, John Bennett, Beth Maxwell
Best wishes from your church!

In Memoriam
Jackie (Jacqueline) McCartney
February 15, 1923 – July 1, 2021
We are saddened by the news that member Jackie McCartney passed away on Thursday at the age of 98. Jackie and her husband Mac (deceased) were members of the church for more than 50 years. A Memorial Service will be held on Saturday, July 24 at 2 p.m. in the Sanctuary.

New Member Class – July 25
Our next new member class will be Sunday, July 25 at 11:15 a.m. in Room 15. If you know someone who is interested in joining the church, please let them know about this opportunity. They can call the church office at (402)333-7466, sign up at the Information Center on Sunday, or sign up online on our website. If you visit the online sign up page on our website, you can easily share it with others.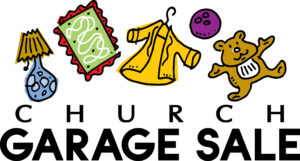 Donation Drop Off
The Annual garage sale is happening on Saturday, July 31. DIY donation drop is happening now at north entrance. We want your gently used items (in sellable condition) — clothing, furniture, toys, sports equipment, household goods, children and baby items, or anything else you think our SHF can sell and make money! You can also donate hangers, boxes and plastic bags. Please no broken, partially used, or dirty items. We cannot accept mattresses, tires, tube TVs, or liquids. We have to pay to dispose of these items, so please do not bring them to church. 
Help wanted! Garage Sale sorting and organizing begins on Monday, July 19 and runs through July 29. Everyone is invited to help any and all days, Monday thru Friday, for the next two weeks, from 11:30 a.m. to 1:30 p.m. or 6:00 p.m. to 8:00 p.m. You do not need to sign up to help. Just show up! THANKS!
Funeral Luncheon Volunteers Needed
The Deacons need to update the volunteer list for help with funeral luncheons. New people are welcome to join us. We organize teams for set-up, food prep, and clean-up. If you have helped in the past and are interested in continuing, please let us know as well. Contact Debbie Mazgaj or Pam Swenson. We use sign-up genius to organize our teams.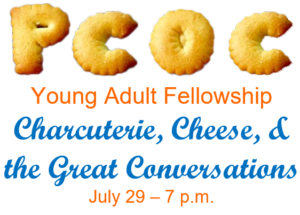 Come join our young adult group for a night of tasty treats and deep theological conversation.
Who is God?
What is God's nature?
What does scripture inform us about God?
Does God change God's mind?
Why did God create?
What does it mean to believe in God in this time and place?
When: Thursday, July 29 at 7:00
Where: In the church Narthex
What to bring: Your favorite charcuterie or cheese or support item – cheese, meat, crackers.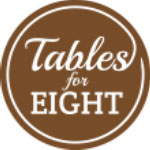 "Tables for Eight" Fall Session 2021
The Membership Committee invites you to participate in the 2021 Tables for Eight Fall Session (September, October, November and December). New couples and singles are welcome to join this fellowship opportunity. Registration forms are available at the Information Desk or you can
sign up online
. The registration deadline is August 10.
Per CDC guidelines **Fully Vaccinated** people may meet in small groups, meet indoors, and not wear a mask or social distance. **Fully Vaccinated** is 2 weeks after receiving the second dose of Moderna or Pfizer or 2 weeks after receiving the single dose of Johnson and Johnson. The 2021 Fall Session of Tables for Eight will meet in person.
Current participants will not be automatically assigned to the Fall Session, so contact Pam Otto if you want to participate. Note: If you have participated in the past and want to be in the upcoming session, you still need to contact Pam.

School Supplies Needed for OPS Partners
The Mission Committee is asking church members to donate school supplies to benefit four OPS elementary schools supported with our mission work: Walnut Hill, Bancroft, Sherman, and King. School supplies will be collected Sunday, June 27 – Friday, August 13.
With the children back to in-person learning, backpacks will be in high demand. Last year PCOC set a goal of 80 backpacks and collected 118 – great job! Each school received 5-6 sacks full of various supplies and 30 backpacks. This project is a huge success every year because of your generosity. For 2021, we've set a goal of 100 backpacks! The collection boxes can be found in the circle drive lobby and by the Information Center in the Narthex.
Reach out to Amy Miller, John Bennett or Rob Bailey for more information.

First Aid Kits for Sale for Boy Scout Troop 552
Boy Scout Troop 552 is selling first aid kits as their fund raiser this year. The are small enough to put in your glove box, but contain what you would need when there is a small accident at the park. There are 2 styles available: Home or Auto. The Kits are $10 each. The Scouts will be selling them at the church for the next few Sundays. We ask that you prepay by check (payable to Troop 552) or cash. We are expecting to deliver in September. If you have questions, you can contact Tammie Will.

Friends, Family, Food, Fellowship, Faith, Fun, AND FREE?!
Grab your lawn chairs and a blanket to sprawl out with your family and friends on Saturday, August 21st for the third annual Fun Day at Calvin Crest! Here are just a FEW things to look forward to…
Trail Run and Bike Ride
Amazing Crafts (including a few edible creations) for the whole family, materials provided!
Live music
Outdoor Worship Service
Yard games and group activities
Swimming
Hayrack Rides
Silent Auction
Concession-style lunch and treats
Photo Station
The day officially begins at 10 a.m. and lasts until 5 pm. If you're interested in volunteering or making a donation to support this incredible ministry, please contact Haley Allen-Mendick. See you there!

Active Minds On Break for July
The group will resume activities again in August. More information to come!

Our Worship & Music committee is building our usher team for the fall.  If you are interested in serving the church in this role, please contact Mike Shannon. Your ushering duties will begin at the end of the summer.
Report Your Mission Hours
As part of PCOC's strategic plan, the Mission Committee tracks the number of volunteers and the number of volunteer hours of the congregation. In the past, a Mission Committee member would collect the volunteer hours for their specific organization. Given the swift move to the use of digital technology in the past year, we are now tracking volunteer hours through the PCOC website. Help the church accomplish the goals set out in the Strategic Plan by updating your volunteer hours today using our new online form. We're collecting March hours now. (Don't worry, we'll remind you every month to report your hours!)
Upper Room Booklets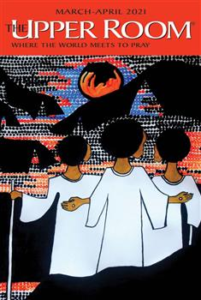 Need a spiritual wellness boost in these times of social distancing?
The Upper Room booklets are available for pickup anytime just inside the circle drive doors at church.