AGAPE FOR ALL
Expand your heart and mind – with new perspectives and relationships!
Coordinators
Kathy Moore and Patty Ritchie
PCOC Agape for All is an invitation for us to learn how we can expand our hearts and minds – with new perspectives and relationships. For more information, contact Kathy Moore or Patty Ritchie.
"Give justice to the weak and the fatherless; maintain the right of the afflicted and the destitute,"
(Psalm 82:3).
Happening in 2023
Over 35 members participated in the "Trouble the Waters" Adult Education classes held this spring on Sunday mornings. The videos prepared by the Presbyterian Church USA provided rich and "troubling" information for us to discuss and ponder. Thank you to all who brought their intellect and compassion to this important work. We are learning there are many ways to "disrupt racism", and perhaps the first step is to feel disruption within ourselves, as we begin to effect positive change. If you missed out on this learning opportunity, visit the PCUSA website to sign up to view these videos on your own.
Coming Up
Great Books & Discussions
Presbyterians (and a whole bunch of other folks) are reading books through the Presbyterian Women Justice and Peace initiative. It is free to participate in the discussion groups, but registration is required. Learn more and sign up!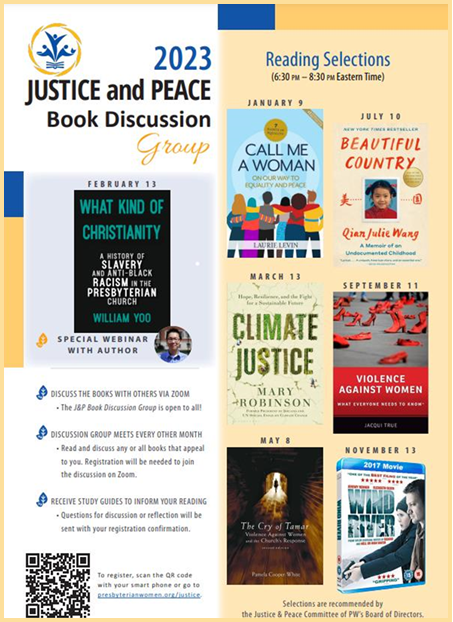 Coming in June
Watch for an announcement regarding a Black History Museum visit in June and possibly a great meal right across the street at the Fair Deal Cafe!
You are invited to attend the next Courageous Conversations. Nebraska senators will share highlights of this past legislative session, and together we will explore the importance of civil discourse. The ability to listen and learn are perhaps our most valuable tools for advancing social justice. All of our society's issues have a social justice component. Kathy Moore and Patty Ritchie serve on the planning committee. Call us with questions.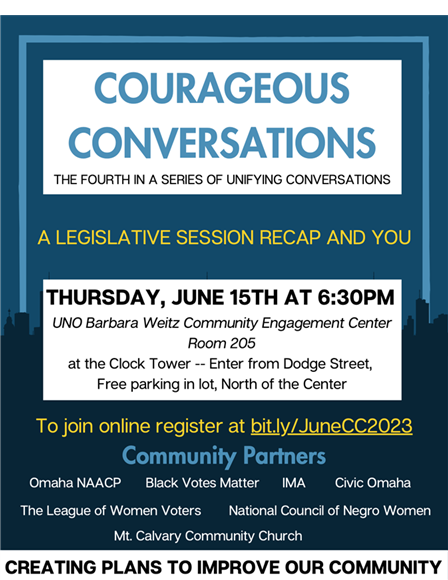 Coming Fall 2023
There will be an adult dialogue class in the fall, September 24 to November 5, discussing marginalized groups in Nebraska. Look for details this summer when registration opens. Class will be taught by Charlene Meyer and Earlene Uhrig.
 "What's Cookin'" discussion tables will return during dinner at Cornerstone on Wednesdays after Labor Day.
Black Votes Matter Summer Tour
The tour, formerly known as the Civil Rights Southern States Tour, is gearing up for another powerful experience this summer. The dates of the tour are June 25-July 2. Last year, Staci Voss, Anna Sumner, and Kathy Moore participated in this remarkable journey to several southern states and learned firsthand about the Civil Rights movement, deepened their understanding of current events, and pondered future steps we all can take toward social justice. Our PCOC Mission Committee is providing financial assistance for two youth to attend the tour this summer. Questions? Contact Kathy Moore
You can also research online at 4urban.org or call 402- 812-3324. Watch the video below to see and hear about what they experienced.
New PCOC Library Section
Our church library is a treasure trove for our entire congregation. Our church library now has "Social Justice" as a vibrant component. Books for all ages, covering a variety of topics are available. Thank you to all who stopped by the book display in December and for your positive responses to these additions to our wonderful library. With our recent adult education classes and Preston Love's presentation and North Omaha tour, we may be even more eager to read these thought provoking stories and learn about positive ways forward. Thank you Judy Arms, Jeremy Cunningham, Ann Pearson, and Jane Hawkins for your work to create this part of the library!​
New books in our church library
Alexander, Michelle; The New Jim Crow: Mass Incarceration in the Age of Colorblindness
Brown, Echo; Brown Girl Unlimited: the Remarkable Story of a Teen Age Wizard (Y)
Celano, Marianne; Collins, Marietta, Hazzard, Ann; Something Happened in our Town: A Child's Story About Racial Injustice (Illustrated by Jennifer Zivoin)
Chatelaine, Dirk; 24th and Glory: The Intersection of Civil Rights and Omaha's Greatest Generation of Athletes
Cobb, Jelanie and David Remnick; The Matter of Black Lives: Collection of Writings from the New Yorker
Craft, Jerry; New Kid (Newberry Award Winner)
Feldman, Jay; When the Mississippi Ran Backwards: Empire, Intrigue, Murder and the New Madrid Earthquakes
French, Howard; Born in Blackness: African, Africans and the Making of the Modern World—1471-WWII
Gates, Henry Louis, Jr.; The Black Church; This is our Story, This Is Our Song
Gonzalez, Christiina Diaz; The Red Umbrella
Gorman, Amanda; The Hill We Climb
Hamilton, Virginia; Anthony Burns: The Defeat and Triumph of a Fugitive Slave; Many Thousand Gone: African Americans from Slavery to Freedom; The People Could Fly: American Black Folktales
Hannah-Jones, Nicole/New York Times Magazine; The 1619 Project: A New Origin Study
Higginbottom, Anastasia; Not my Idea: A Book About Whiteness
Hopkinson, Deborah; Sweet Clara and the Freedom Quilt (Illustrated by James Ransome)
Irving, Debbie; Waking Up White and Finding Myself in the Story of Race
Jacobs, Margaret; After One Hundred Winters: In Search of Reconciliation of America's Stolen Lands
Jones, Edward; The Known World
Kendi, Ibram; Stamped from the Beginning: The Definitive History of Racist Ideas
Larson, Kate Clifford; Bound for the Promised Land: Harriet Tubman—Portrait of an American Hero
Larson, Kate Clifford; Walk With Me; A Biography of Fannie Lou Hamer
Love, Preston; Wisdom's Foresight: From Cataracts to Pandemic Vaccines
Love, Preston and Love, Portia (Illustrated by Regina JeanPierre); Your Bridge to History
McCauley, Esau; Reading While Black: African American Interpretation as an Exercise in Hope
Oluo, Ijeoma; So You Want to Talk About Race
Payne, Tim and Tamara; The Dead Are Arising
Reid, Kiley; Such a Fun Age
Rhodes, Jewell Parker; Black Brother, Black Brother
Ringgold, Faith; Tar Beach
Ritchie, Patty; The Dunehaven Council
Ruffin, Amber and Lamar, Lacey; You'll Never Believe What Happened to Lacey
Shatterly, Margot Lee; Hidden Figures
Stevenson, Bryan; Just Mercy—A Story of Justice and Redemption
Stone, Nic; Dear Justyce; Dear Martin; Clean Getaway
TuTu, Desmond and Dalai Lama: The Book of Joy: Lasting Happiness in a Changing World
Wilkerson, Isabel; The Warmth of Other Suns: The Epic Story of America's Great Migration; Caste: The Origins of our Discontents
Willies, Egberto; How to Talk to your Right-Wing Relatives, Friends, and Neighbors
Winters, Mary-Frances; Black Fatigue
Woodson, Jacqueline; Coming on Home (Illustrated by E.B. Lewis); Brown Girl Dreaming
Zoboi, Ibi (Editor); Black Enough: Stories of Being Young and Black in America
Other Books In the Library Prior to starting the Social Justice Library
Abrahams, Roger; African Folktales (Pantheon Fairytale and Folklore Library)
Haskins, James and Benson, Kathleen; African Beginnings (Ilustrated by Floyd Cooper)
King, Martin Luther; I Have a Dream: Writing and Speeches that Changed the World
Martinson, Paul; Islam—An Introduction for Christians
McKissack, Patricia; A Picture of Freedom: The Diary of Clotee, A Slave Girl on Belmont Plantation, Virginia 1859
Phillips, Rachel; Frederick Douglass: Abolitionist and Reformer
Powell, Colin; My American Journey
Rampersand, Arnold; Jackie Robinson
Rauf, Abdul Feisal; What's Right With Islam Is What's Right With America: A New Vision for Muslims and the West
Reese, Della; Angels Along the Way: My Life with Help from Above
Thomas, David Hurst and Pendleton, LoriAnn; Native Americans (The Nature Company Discovery Library)
Time-Life Books; Voices of Triumph: Perseverence; Leadership; Creative Fire
TuTu, Desmond; No Future Without Forgiveness
Additional Social Justice websites from our Presbyterian Denomination
Past Events
East – West Courageous Conversations titled, 'YOUR VOTE – YOUR POWER" This event happened on Thursday, October 13 at 6:30 p.m. at the UNO Barbara Weitz Community Engagement Center. Topics included important ballot issues dealing with an increase in Nebraska's minimum wage and the requirement for voter identification when casting your ballot. Both sides of those issues were presented by speakers from the League of Women Voters, Nebraska Appleseed, Civic Nebraska, and the Douglas County Election Commission. Patty Ritchie and Kathy Moore are on the planning committee. Video is available below.
Sunday Worship with "Churches of Color"
June 26 – Church of the Resurrection, 3014 Belvedere Blvd, for 10:30 a.m. service and picnic lunch.
July 24 – Mt Moriah Mission Baptist Church, 2602 N 24th, for a 10:30 a.m.service.
Kathy will check to see if the Revive Center will be having a Gospel Lunch that day.
August 7- Salem Baptist, 3131 Lake Street, 10 a.m.-noon.
Malcolm X Museum – Saturday, July 23
Right here in Omaha, the museum is the birthplace of Malcolm Little, who later became known as Malcolm X, one of the most pivotal civil rights leaders of our time. Because his family was persecuted and threatened by the Ku Klux Klan, they had to leave Omaha when Malcolm was an infant. This site is a national historic landmark located at 3448 Evans St. For those interested in any kind of history, a visit to this site is essential to understanding Omaha's role. A donation of $15 per person is requested. The formal tour is 30 minutes long.
"Sweet Potato Pie"
A Meal and Message with Preston Love!
Our group enjoyed a delicious lunch (and pie!), catered by Big Mama's Kitchen. We will got further acquainted with Preston Love, learned more about his Youth Civil Rights Tour and the organization he has started, 4urban.org.
Get acquainted with North Omaha – Past & Present
(see Facebook post above)
Brother Love provided a historical tour of North Omaha, with perspectives on the economic, cultural, and civil rights background of this integral part of our city. The tour included the following:
an interactive video tour of North Omaha from Preston's Office space;
a motorcade to 3 North Omaha locations in our own cars;
a 45-minute visit to the Great Plains Black History Museum;
we will conclude at the Revive Center for lunch and further conversation with Preston and Willie Barney who will talk about the current work of the Empowerment Network.
Civil Rights Southern States Tour
Anna Sumner, Kathy Moore and Staci Voss went on the Civil Rights Southern States Tour, July 10-17.  For background on their trip, check out these resources.
What's Cookin'  
Our Cornerstone open dinner table conversation is on "pause" until fall. Share your thoughts for filling the interim with Kathy Moore or Patty Ritchie.
Poetry Night
March 18 was a very memorable evening of insight and sharing. Making time to listen to a variety of perspectives and conversing with sincerity and openness helped all of us stretch our minds and souls.
Agape for All in the News
Exploring Matthew 25
Kathy Moore and Patty Ritchie attended a wonderful meeting with new friends at First Presbyterian Church in Omaha. We wanted to learn more about their Matthew 25 Team, started about 4 years ago, when our Presbytery began the Initiative. Uplifted by the dedication of our own church's Mission outreach, we know PCOC already heeds this scripture. Here is a portion:
"Then the King will say to those on his right, 'Come, you who are blessed by my Father; take your inheritance, the kingdom prepared for you since the creation of the world. For I was hungry and you gave me something to eat, I was thirsty and you gave me something to drink, "I was a stranger and you invited me in, I needed clothes and you clothed me, I was sick and you looked after me, I was in prison and you came to visit me.'

"Then the righteous will answer him, 'Lord, when did we see you hungry and feed you, or thirsty and give you something to drink? When did we see you a stranger and invite you in, or needing clothes and clothe you? When did we see you sick or in prison and go to visit you?'

"The King will reply, 'I tell you the truth, whatever you did for one of the least of these brothers of mine, you did for me." (NIV)
Watch for more news about discussions. We are grateful to be in a church that is actively caring for others.
March Poetry Night
Poetry night was a very memorable evening of insight and sharing. Making time to listen to a variety of perspectives and conversing with sincerity and openness helped all of us stretch our minds and souls. Our church encourages us to do this in the spirit of fellowship.
Other Activities
There are many additional activities that spring out of Agape for All, such as participation in the Scared Ground Curriculum, developed by the Episcopal Church, and shared in zoom sessions across denominations. Several of us are studying and discussing social issues and finding the experience rich and challenging.
In the Omaha metro area, there are many groups forming to address social justice issues, tackling a wide variety of topics, communicating with integrity and vision. It is an exciting time for our community. As we learn more, we can respond with more efficacy.