INTERNATIONAL MISSION
 Our Partnership with Grace Baptist Church in Gnozdovo, Russia
Coordinators:
Karen Morey & Janelle Davis
About: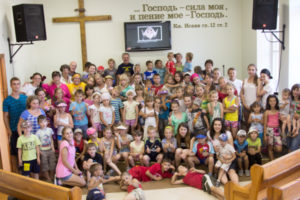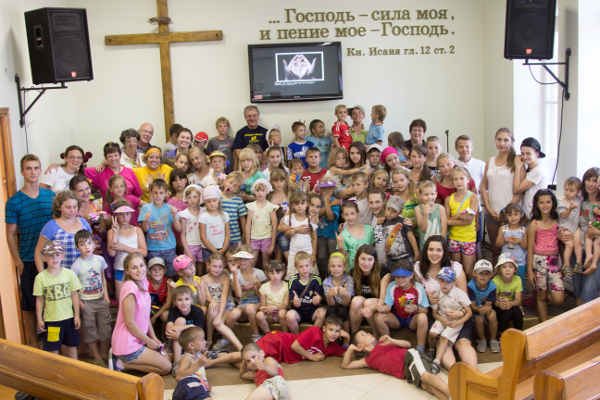 Ten Years of Partnership with Grace Baptist Church in Gnozdovo, Russia
Since 2009, Church of the Cross has enjoyed a rich and growing partnership with Grace Baptist Church in Gnozdovo, Russia, a small community on the edge of Smolensk. Through frequent visits, shared projects and mission work, joyful celebrations, and fellowship over many meals together, members of our two churches have developed lasting friendships and a greater understanding of our worldwide community in Christ.
A team of young adults from PCOC are preparing now for a visit to Gnozdovo in June 2017.  They will work together with the young adults of our partner church on a joint mission project in Smolensk.
Our Mission Statement
We are a partnership between the Grace Baptist Church of Gnozdovo in Smolensk, Russia and the Presbyterian Church of the Cross in Omaha, Nebraska, united through love and faith in Christ, in response to God's call to build God's Kingdom, working actively, modeling the ministry of Jesus Christ to extend his love, justice, joy, hope, and message with our communities.
Objectives
Pray for each other
Communicate frequently, sharing with each other the needs and joys of our communities
Promote exchanges between the partnership communities
Work together in partnership on program and projects, while being good stewards of God 's gifts.
How it began – March, 2009
In March 2009, three members of the Mission Committee (Janelle Davis, Karen Morey, Geri Clanton) traveled to Russia to explore establishing a partnership with the Grace Baptist Church of Gnozdovo, Russia, a village on the edge of Smolensk. With the help of Ellen Smith, a Presbyterian mission co-worker in Russia, they worshiped in the Gnozdovo church and enjoyed the hospitality of church families in their homes. The team visited the orphanages where the church is providing crafts, Bible lessons, day camps, building repairs that are not possible with the government's bare-bones funding. They also visited the Smolensk Baptist church camp. Destroyed by arson in October 2008, the camp is being rebuilt by volunteers.
The team returned to Omaha, excited and enthusiastic. The Session approved the establishment of a partnership and we began to build a long-term relationship.
"We were in awe of the powerful outreach ministries of such a small congregation; it was a truly humbling experience." -Karen Morey
Future Plans:
Plans for Future Trips
In the next few years, there will be new opportunities for PCOC teams to visit our partner church in Russia. Some of the possibilities being discussed in the Mission Committee include:
Quilting together with the women of the Gnozdovo church
Continuing to help with Vacation Bible School
Working with our partners on repairs to their church building
Sharing members' expertise in seminars, especially in the areas of children's health and well-being
Serving as "counselors" at the church camp
Working together with our partners on repair projects at the Forest School
"I don't have any particular skills, and I'm older than everyone else – but this has been one of the best experiences of my life. If I can do it, so can you!" –Janelle Davis
For more information, contact Karen Morey karenmorey@tconl.com or Janelle Davis lfdavis@cox.net.
Quilts for the Smolensk Church Camp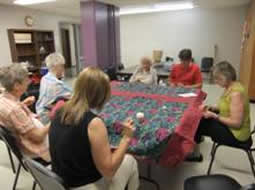 Since 2009, the Piecemakers quilting group at Church of the Cross have made and donated 25 quilts for the beds in the rebuilt church camp, which have been delivered to Gnozdovo by the visiting mission teams. The camp will reopen in 2012.
November 2009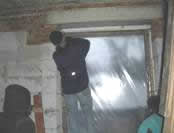 A request came for workers to come to Smolensk to help enclose the under-construction camp buildings before the hard winter set in and Dave Gazzetta volunteered to make the trip. He quickly developed a friendship with Pastor Leonid Ignatenkov, and worked with a team for a week, covering windows and the roof to protect the construction in progress.
"Our mission is to go help with…, not to go do for…" -David Gazzetta
August 2010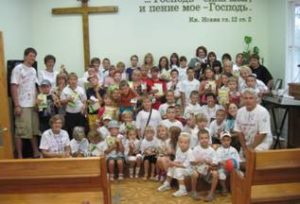 A team of 7 members of Church of the Cross traveled to Smolensk and helped the Gnozdovo church to conduct a Vacation Bible School for children in the village. The combined team of Russian and American volunteers led 50-60 kids, ages 5-18, with Bible stories, songs, crafts, games, and entertainment. The teamwork between Russian and Americans was inspiring and friendships blossomed.
"It was my 'aha' moment: the perfect craft didn't matter; it was all about relationships! -Tina Morgan
November 2010
A conference on post-orphanage ministry in Smolensk captured the attention of Geri Clanton. She joined Ellen Smith in attending the conference, hosted by the Smolensk and Gnozdovo Baptist Churches. Participants from all over Russia shared stories of their efforts to serve the needs of young people who have "aged out" of the orphanage system but have little support or skills to make a healthy transition into adult life. The churches are leading the movement to find a solution that meets their needs and reduces the draw of crime, prostitution, and drugs.
"The participants were so energized by their shared passion for helping 'post-orphans' that they went out with new hope and a determination to stay connected." –Geri Clanton
August 2011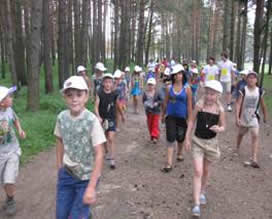 A new team was formed for a trip to Smolensk and the Gnozdovo church in August 2011. Some were returning for a second or third time; others were getting involved in the partnership for the first time. The team (Janelle Davis, Sue Thomas, Don Metzger, and Richard Johnson) received warm welcomes from their friends in the Gnozdovo church and were put to work again as helpers in Vacation Bible School for children of the village. They also participated in the opening ceremonies at the Forest School – a state orphanage supported by the Gnozdovo church. They helped put on an Olympiad with the children to launch their new school year.
"I admit I went to Russia with some anxiety. But worshiping together on Sunday morning was so moving, and in just one week, the friendships that grew out of working together with the kids made me want to go back many times!" –Don Metzger
July 2012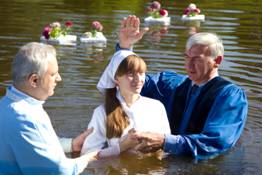 When the plans for a visit to Omaha from our partner church fell through (their visa applications were denied by the USA), a PCOC team was quickly organized to attend the dedication of the completed camp. Those plans also fell through, as the camp was not ready to open due to delays in receiving the final grant funds. Not to be deterred, the team of four traveled to Gnozdovo in the first week of July, 2012, determined to spend a week with our partners, helping with small tasks and spending many hours together strengthening relationships between our two churches. The impromptu plan led to delightful surprises, unexpected opportunities, and meaningful exchanges between friends from two cultures.
March 2013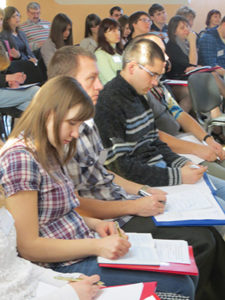 A team of three traveled to Gnozdovo in March 2013 to participate in the second Post-OrphanageConference hosted by the Baptist churches in the Smolensk region. Sixty representatives from 15 fifteen different churches in Russia gathered for three days at the newly complete camp and conference center in Smolensk to learn and share ideas for improving the lives of children who leave orphanages ill-equipped to live on their own PCOC elder Kathy Moore spoke to the conference on mentoring and independent living skills.
July 2014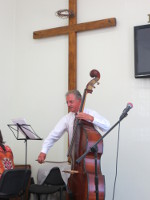 For the first time, the team who visited Gnozdovo included two young people. Haley Allen and Anna Flairty, along with Karen and John Morey, Sue Thomas, and Bill Ritchie joined Ellen Smith and her daughter Emma for a day of sightseeing in Moscow and six days in Gnozdovo. The team provided additional support in working with the 70-80 kids in Bible School, and led the craft activities each day. The church especially appreciated Bill's musical contributions in worship.
"In Russia, God reminded me that He is with me everywhere I go because we were among friends in Christ who put us before themselves every single day.  Russia taught me that I am not alone in my journey."– Haley Allen
October 2015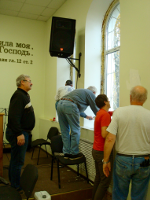 In spite of rising tensions between the United States and Russia, PCOC's commitment stood firm to be in a strong relationship with Grace Baptist Church in Gnozdovo.  A team of 6 men visited our friends in Gnozdovo to help with necessary repairs to the church building and were welcomed with warm hospitality and love.
July 2016
A four person team went in July to do whatever was needed, this time, paint fences. The timing was changed by two days to attend the wedding of one of the young women of the church that has been involved with several of our trips. Karen and John were asked to participate in the ceremony.
 "Our Russian friends pray for us often.  This trip inspired me to pray for them – and others – regularly." – Jayne Frederickson
June 2017
Marshall and a group of young people went and were joined by Ellen's daughter.
Explore Other PCOC Missions…