OMAHA STREET SCHOOL
Transformation Through Education
Coordinator
Tina Morgan
Volunteers Needed?
Yes!
For more information on volunteering, contact Tina Morgan.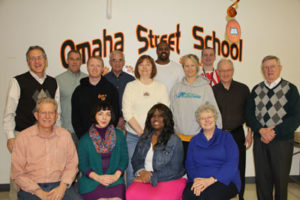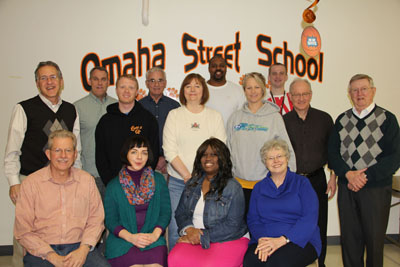 Omaha Street School (OSS) is a faith-based, non-profit alternative high school. OSS targets high-risk youth who have been unsuccessful in traditional high schools. Students come to the school with a history of problems including: truancy, drug and alcohol abuse, emotional and physical abuse, teen pregnancy, and criminal and gang involvement.
As a non-profit high school, OSS is supported heavily by donations including financial support from our church Mission budget. (Our OSS support is in synch with the Mission Committee's main focus of 'youth at risk'.) The school operates on a small budget, in an old building that does not have a full kitchen. Because meals cannot be prepared onsite, various volunteer organizations, churches, and businesses have picked up the slack by providing hot lunches on a daily basis.
The staff at OSS believe that:
all people have the potential to learn because they are created in the image of God,
God's truth can be witnessed in all areas of academic study,
education is modeled through nurturing relationships between teachers
education involves the total student in terms of mental, physical, spiritual, and social development.
Presbyterian Church of the Cross (PCOC) volunteers participate by sharing lunch with the students once a month, on the second Thursday of the month. Volunteers prepare a hot lunch, serve the lunch, and interact with students and staff, including prayer and conversation. PCOC also supports Omaha Street School academically. Volunteers serve on the school's Board of Directors and assist the staff with class instruction. As a key mission partner, OSS annually receives financial donations from PCOC to help fund the school's programs.
Contact the coordinator to volunteer.
SAVE YOUR RECEIPTS TO BENEFIT OSS!
Save your grocery receipts from both Hy-Vee and Family Fare, and use them to benefit the Omaha Street School (OSS). A percentage of your purchases will be donated back to OSS.
HyVee
With this "new and improved" program, you have two options for submitting your Hy-Vee receipts.
• Option 1: Bring your collected receipts to church. As much as possible, avoid wrinkling or bending them. Clip them together and drop them in the Hy-Vee box on the Information Desk. A representative from the Mission Committee will scan them into a special TAGG (Together a Greater Good) phone app. The program will credit OSS with a percent of the receipt total. Receipts do not have to be recent; you can submit receipts from previous purchases.
• Option 2: Or, you can scan receipts into the TAGG app on your own. Just download the app, and take a photo of your receipt(s). Click the link below to learn about the app and how to download it to your phone. https://omahastreetschool.org/get-involved/ongoing-fundraisers
Family Fare
Bring your collected receipts to church. As much as possible, avoid wrinkling or bending them. Clip them together and drop them in the Family Fare box on the Information Desk. The Mission Committee will deliver them to OSS.
Explore Our Other Local Mission Support