VOICES FOR CHILDREN IN NEBRASKA
Advocating for Children at Risk
Coordinator
Kathy Moore
Volunteers Needed?
Contact the Kathy Moore or call Voices for Children directly at 402-597-3100 to volunteer.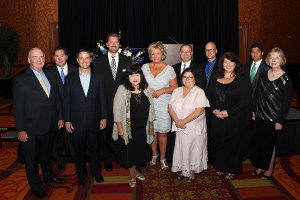 Founded in 1987, Voices for Children in Nebraska has a 28 year track record of improving the lives of Nebraska's children and youth. As the independent, non partisan voice for children, we are not funded by state, federal, city or county dollars. We are generously supported by people like you—who want to make difference for the kids in our state. Our independence allows us to speak loud and clear and to shine the spotlight on the needs of children in our state.
MISSION
Voices for Children in Nebraska is the independent voice building pathways to opportunity for all children and families through research, policy and community engagement.
VISION
We will engage the public and state leaders to build systems removing obstacles and promoting opportunities for ALL children to lead healthy, secure and fulfilling lives.
VALUES
All children deserve an equal opportunity to succeed in life. To ensure kids remain at the center of priorities and programs:
Informed research drives our direction.
When a policy is good, we support it; when it is harmful, we fight it; when it is missing, we can create it.
Community engagement is how we promote systems change.
PLAN
Our policy priorities are guided by research, data and proven best practices that improve child well-being. We pay close attention to the impact of race, poverty and geography, and seek to address existing disparities within these issue areas.
Since 1987, Voices for Children in Nebraska has:
helped create and pass the 2006 Earned Income Tax Credit in Nebraska which is the single most effective policy that allows low income children and families to move out of poverty.
ensured since 1999 the effective implementation of Kids Connection, which makes it possible for thousands of children living in poverty to have health care.
established the Nebraska Parenting Act which provides education for divorcing parents to help minimize the negative effects of divorce on children.
collaborated with legislative, legal, and social service leaders to establish policy to limit the time a child can languish in foster care.
produced the annual Kids Count Report which is recognized as the source of data, policy and impact information for state and local leaders on child well-being in Nebraska.
developed a widely distributed video, "Through Trevor's Eyes", to help all professionals understand the effects of children witnessing domestic violence.
increased awareness about dangerous and inadequate juvenile services in Nebraska and lobby for the creation of an Office of Juvenile Services for compliance with the Delinquency Prevention Act, and for jail standards for detention facilities, directly improving juvenile services in Nebraska.
As a key Mission partner, Voices For Children annually receives financial support from Presbyterian Church of the Cross (PCOC)  to fund its programs. Our ongoing support includes membership on Voices' Board of Directors. In 2011, Voices named PCOC its faith-based award recipient for its support of their organization.
Contact the coordinator or call Voices for Children directly at 402-597-3100 to volunteer.
Explore Our Other Local Mission Support